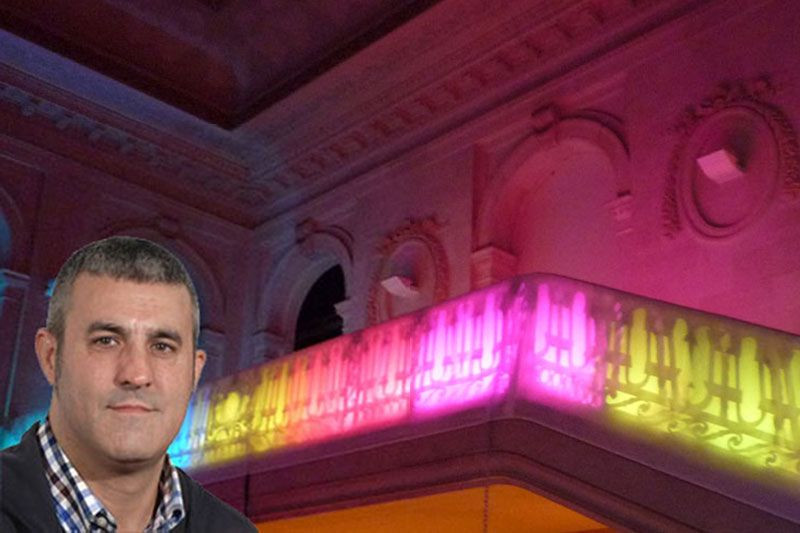 Novinky a názory
/
názory a komentáře
What is lighting designer about?
Rafael Gallego, famous spanish lighting designer, co-founder of APDI (spanish Association of professional light designers) explained us, how he got to this unusual profession and what is the method of his work.
Jaroslav Sládeček , 7. 11. 2012
Rafael Gallego studied industrial design at Escola Massana in Barcelona and at Polytechnic University of Catalunya in Girona. Since 1998 he is an independent lighting designer, founder and owner of studio Aureolighting.
You are a famous lighting designer, but your original occupation is an industrial designer. Can you tell us the very beginning of your decision to become an industrial designer?
When I was youg and finished my bachelor, I was thinking about studying engeneering, but there was something, that was not fitting with me. I was looking for another kind of studies more suitable and I found that design should be a possibility because they are looking for products more comfortable or more close to the people, less cold, more accessible, more human. I think this situation forgives me the final decision to study industrial design.
Was it difficult to get to that school?
Yes it was. There was some initial test to choose the people who will study in this year and I passed. this course was half technical, half artistic. After I passed this exam I started my first course. It was a full course, it was a common course for all students it was full in art concepts and it gave me another great seeing of things and another way to think about things. And another way to express things. Because I came from a very technical studies before as an industrial dropman. The first year I was a bit lost but in next three years finally I was more comfortable and agreed a lot with the initial decision to study industrial design.
How did it happen that you became a lighting designer? Was it your decision?
It was like an accident. Later when I finished my studies I was working some years as industrial designer. After some years by a chance my friend asked me to do a special job for him. He owns a big luminary shop and he needed someone to help VIP clients to do the best shopping. Then I became a lighting consultant and helped them to look for the best luminaries for their restaurants or their house. And that is when I started to work as a lighting designer.
How old were you?
I started with it when I was 32.
Was it a big change?
It was something new, I had no idea that this profession has a name. I did all my works just using a common sense. Step by step for 3-4 years. Later I found out that all the people that do the same are called Lighting Designers.
Is there some method that you use? At your presentation you showed the proces, phases of your work, now I am curious whether you have some method, something that leads you through the project and whether it is always the same or it differs according to the building.
Each building and each project has its own process. But there is something that is similar to all of them, something that is very personally mine because of my studies. As I said I am originally an industrial designer and I was taught that I should do products for customers, that I must study to understand them to fit the product to them. Another thing that I follow in all my projects is this double position. Sometimes I am in my office working on a project as a professional of lighting and at the same time I try to be the user of this project. I think how should I feel in this space if I went to this space as a user. I try to understand what is the flow of the people there, how will I move in that place if I were the user. How I move, where I stay, what things I see. Then I try to think of how to make it more comfortable, beautiful, more pleasant. I do this in my mind and then I return back to the position of lighting professional and then I try to translate these thoughts into lighting effects. That is my designing prosess.
What are the possibilities of lighting design? We know about upper light, lower, central and maybe about different colours and that is all. Do you have any special effects? And which is your favorite?
I have a battery of effects. But it depends on the space and especially on the message, that you want to communicate. Each space comes from the idea of an architect or an interior designer. In their idea there is an intention to explain something in the space using volumes and elements that are in the particular space. We try to translate into light those things that the architect wanted to communicate. Our aim is to make our light communicate the same message as the architect wanted from the space. If both – solid and light – communicate in the same direction, then the message becomes stronger. If we don't understand the concept of the architect, and we try to communicate something that is different than what the space communicates, than we create noise.
Do you think you can improve architecture by lighting? We can reveal the architecture in a better way, normal way or bad way. We try to reveal the architecture in the best possible way. How big are the projects you usually work on? Is it mostly permanent lighting? And the most of them is interior or exterior?
We make more permanent projects than temporary – in ratio around 80 : 20. And we work on a big range of solutions from interior to exterior, more or less 1:1. Those are shopping malls, leisure malls, retail, hotels, restaurants, private houses and urban lighting. There are still areas, that we have never made, like museums or churches.
Do you dream about some building that you would like to make a light design for?
My dream is to have an easy client. (laughing) Because with our clients we always have to do two things – designing and teaching. We are all the time explaining how important is the light in life of the people, how important is the light in the building, how important is the light for everything. We spend a lot of energy in this task. And if this energy could have been put into project, it would have been better. Because we have a limited quantity of energy.
And what kind of projects I dream about?
I prefer projects, that can be used by more people. For example urban lighting in opposition to a private house. I prefer to work in more social spaces.
My last question : Who is your favorite architect?
I have many. One of the most inspirational for me is Antonio Gaudí. From the modern I like architects that work with only few elements. Normally I like more the simplicity of the buildings, to mention one – maybe Moneo among Spanish is one of my favorite. But Gaudí had a philosophy behind his production, that is very inspirational for me. And also I think that his architecture is really wonderful and unique.